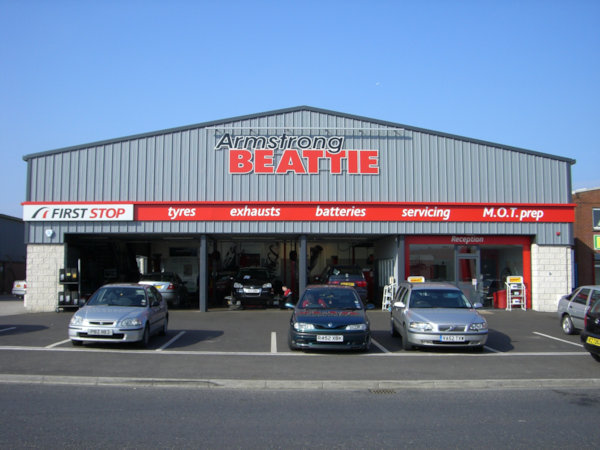 FIRST STOP - Armstrong Beattie Tyre & Exhaust Centre
---
---
---
Get in touch
If you have any questions or would like to get in touch, click on the button below to send us a message and we will get back to you as soon as possible.
Contact Us
---
Read what our customers think
Sandy O'neill
in the last week
"Knowledgeable, helpful, professional but slow and expensive. Then again in this present covid climate everywhere is slow due to staffing levels. Good workmanship granted."
Jenny Chambers
in the last week
"Very professional service. Efficient staff who gave me excellent advice. My car feels like a new model after the service today."
Mal Carrick
2 months ago
"Went for 2 new tires this morning. Friendly informative staff. Price not too scary."
Steve Grainger
2 months ago
"Helpful, couldn't do the work I had last time but got me someone who could. Bought tyres and exhaust there previously and got a fair deal."
Amanda Craig
2 months ago
"10 past 5 on a Fri afternoon and I was unfortunate enough to get a puncture. The guys at Armstrong Beattie could not have been more helpful. I assumed they'd say no as they close at 5.30 but they had me back on the road in no time . First class . Will definitely use these guys in future 👌"
John Barago
3 months ago
"Went today to get the dead bird out inside the bottom grills of my BMW. Got sorted immediately and they said it was only a 5 minute job so it was free. Amazing bunch of people and reception is 5* in cleanliness aswell as covid safety precautions. Will definitely be back 100%. Thanks guys!"
Rebecca Todd
6 months ago
"Car was in a for a service and the guys were so friendly & helpful. Only took 1.5 hours with only a couple of minor things to fix. First time using this garage but can definitely say il be back! Very happy👍"
---
Services we offer
Adblue
Batteries
Brakes
Brake Fluid Change

Bulb Replacement
Cabin Pollen Filter
Coolant Liquid
Exhausts
Oil Change
Pre MOT Check
Puncture Repair
Rotating Tyres
Safety Inspection
Shock Absorbers

Steering and Suspension
Tyre Pressure Monitoring Systems
Tyres
Vehicle Diagnostics
Wheel Alignment
Wheel Balancing

Wiper Blades
---