BRIDGESTONE DRIVEGUARD
No matter what happens when on the road, Bridgestone Driveguard will always be reliable.
Whether a nail punctures the centre tread, or a sharp piece of glasses slices through the edge,through all kinds of punctures, with Driveguard you can safely continue driving at up to 50 miles to 80 kilometres.
Regardless of the situation, you can trust Driveguard to keep you moving.
FOR YOUR CAR
Designed for any passenger car which features a Tyre Pressure Monitoring System (TPMS), DriveGuard is ideal for any situation you may find yourself in, allowing you to safely continue driving at up to 50 mph, for 80 kilometres, after the dashboard indicator lights up.
INNOVATIVE TECHNOLOGY
All thanks to the proprietary patented design of Bridgestone's high-tech cooling fins, Driveguard technology ensures both heat and friction is distributed effectively aftera puncture occurs, allowing you to continue your journey for 50 miles, even after the tyre has completely lost air pressure.
WET CONTROL
Boasting the highest wet grip performance, with short braking distances, Bridgestone Driveguard tyres have earned an EU-labelled "A" grade for wet grip.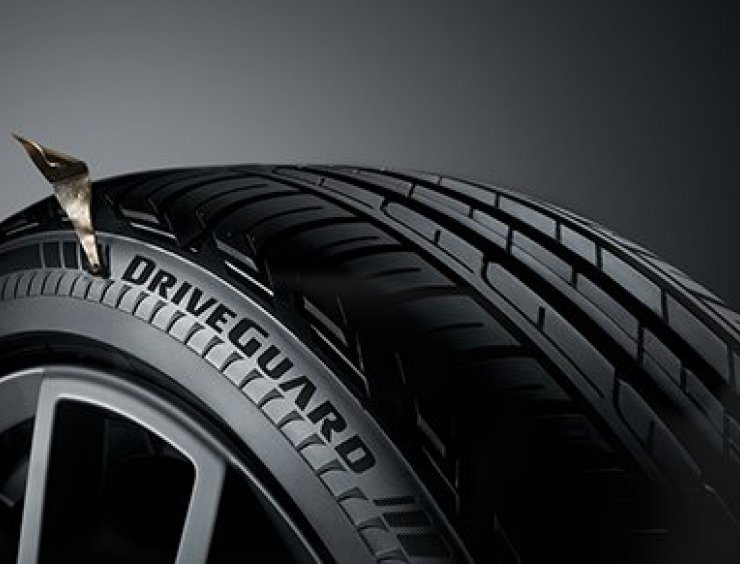 SAFETY & CONVENIENCE
The innovation of Bridgestone's Driveguard technology makes certain that you remain in control of your vehicle, even after punctures occur, so you can keep driving with peace of mind for 50 miles at up to 50 mph, giving you all the time you need to safely replace or repair your tyre.