Book a Car Service Online
First Stop can now offer servicing according to the "Manufacturer's Recommended Servicing Schedule" which is tailored to your car's age, make, model and mileage. We offer Car Servicing for BMW, Hyundai, Volkswagen (VW), Ford, Skoda, Nissan, Toyota, Kia, Renault, Audi, Opel plus many more manufacturers. Our Car Servicing "Service Schedules" can be tailored in order to suit most cars whatever their age or annual mileage.
Servicing pro-actively maintains your car, reducing the risk of a breakdown. Regular servicing can help maintain your cars value.
Enter you details below to book online.
Contact us about Car Servicing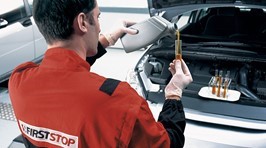 Car Servicing and Maintaining your Manufacturer's Warranty
Are you aware that when your vehicle needs servicing you do not need to return your vehicle back to the manufacturer dealer to maintain its warrant.
Vehicles must be serviced in accordance with the vehicle manufacturer service schedules.
Vehicle manufacturers have a duty to honour the vehicle's warranty when it is serviced outside of the dealer network, and non-OE parts fitted onto a vehicle is an insufficient reason for the warranty to be declared invalid.
What is the difference between an interim and full car service?
A full car service is ideal for an annual maintenance programme for your car and recommended every 20,000 kilometres or 12 months – Whichever is sooner. Some manufacturers may recommend more frequent checks. Interim Servicing is ideal for vehicles used for short, mainly urban journeys or for those who wish to service vehicles doing very high mileage more regularly. An interim service every 10,000 kilometres or 6 months helps keep your car safe and road worthy between full services.
At First Stop we offer both interim and a full car service packages as well as oil changes.
A change of oil increases performance and extends the life of your engine.
Mileage, use and date of manufacture all have a direct influence on its wear and tear.
If you just require an oil change or top up, call into First Stop today.
Why change the oil?
Improve fuel efficiency
Extend engine life
Reduce harmful emissions
Stop build-up of debris in your engine
When should I check the oil level in my car?
We recommend checking the oil level at least once a month, or every 1,000 km / 600miles. This is to ensure it's not risen above the maximum level or fallen below the minimum.
To avoid damage, premature wear or excess fuel consumption, always use the oil recommended by the manufacturer
When should I change the oil and filter?
Normally, you should change the oil once a year. If you make mostly short trips, or use the vehicle very little, it'll need changing less often.
For vehicles made before 2000, every 7,500 to 15,000km
For vehicles made after 2000, every 15,000 to 30,000km
What are the different types of engine oil
Your vehicle's engine requires the correct grade of oil in order to lubricate the internal parts and components. The grade of oil for your vehicle is determined by the vehicle manufacturer based on the size, type, general working conditions and operating temperature ranges of the engine. First Stop stocks and recommends quality oils to keep your engine well protected. We will be happy to advise you of the correct type of oil for your car.
Visit your nearest First Stop Shop for professional advice click on the link below: