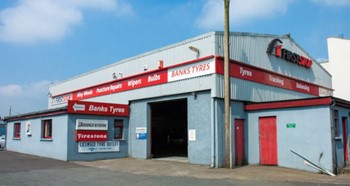 FIRST STOP - John Banks Tyres
---
---
4 South Douglas Road, Turners Cross
Cork
County Cork
T12 PW10
Get directions
---
Get in touch
If you have any questions or would like to get in touch, click on the button below to send us a message and we will get back to you as soon as possible.
Contact Us
---
Read what our customers think
ivor twomey
in the last week
"The team here are great. The service was amazing. Got me back on the road in no time at all. I will be back."
EoghanInCork
in the last week
"The person on reception knew the right size tyres without looking it up, they were able to explain why that size was relevant to my car, they gave me a range of options based on price and my driving habits, tracking was perfect, all done in no time, AND they cleaned and shined the walls of the tyres - serious professionals. Best in Cork!"
Sarah Bannon
in the last week
"Great service and very quick! Thank you to Stephen who got my car back on the road today after a puncture. Really nice guy too!! Cheers 😊"
Michelle Nelson
3 weeks ago
"Amazing service, couldn't meet a nicer bunch of people - kind, efficient, service-oriented and totally sound. I could not recommend the place highly enough."
David Kuhn
in the last week
"As someone who is annoyingly particular when it comes to looking after my cars, it was incredibly refreshing to experience the level of customer service Banks Tyres offer. I purchased a full set of Michelin PS5 for my old 630i, there was care taken, even with a 14 year old car, the tyre balancing was perfect, as was the tracking. Shortly after, I took my M3 to have the tires balanced (which is notoriously tricky to get right given the sensitivity of the steering), and it was done, with meticulous care, on the first attempt, I was very impressed. Thanks again to John, Dave and team, I'll definitely be back."
chayanis Boonrattanabundid
in the last week
"Really outstanding professional service and great customer service as well. Very impressive and no any hassles. Highly recommended!!"
Eileen Cronin
in the last week
"10 min wait. After plea for help.. amazing service.. thank you .."
Colum McCarthy
in the last week
"Fantastic service from the crew here . Super advice on choice of tyres that suit your individual needs. Very competitive pricing too."
darragh reidy
in the last week
"Great service i think peter was the guy that helped me with my query, very helpful. Would highly recomend 5 stars from me."
Bruce Newton
in the last week
"We have used Banks Tyres several times over the last 12 months and cannot speak highly enough of them. Every time we call in, they are able to repair a puncture with minimal waiting. Very reasonably priced and really helpful. Amazing customer service."
---
Services we offer
Adblue
Brakes
Brake Fluid Change
Cabin Pollen Filter
Coolant Liquid
Oil Change
Puncture Repair
Rotating Tyres
Safety Inspection
Tyre Pressure Monitoring Systems
Tyres
Wheel Alignment
Wheel Balancing
---