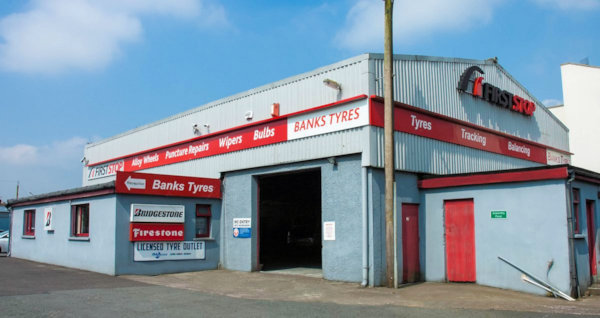 FIRST STOP - John Banks Tyres
---
---
4 South Douglas Road, Turners Cross
Cork
County Cork
T12 PW10
Get directions
---
Get in touch
If you have any questions or would like to get in touch, click on the button below to send us a message and we will get back to you as soon as possible.
Contact Us
---
Read what our customers think
Brian O Neill
in the last week
"Great service. Very helpful, they always go the extra mile to make sure everything is right 👍"
Trevor Maguire
2 weeks ago
"Called in here today fantastic people very helpful and a huge thanks to John for helping me out get my lock nut out which took a lot of patience 👍👍👍👍👍"
Jamie Shinners
3 weeks ago
"I bought two new Goodyear Vector 4Season tyres (fuel efficiency rating of C and wet grip rating of B) for €218 for my Skoda Fabia and had my spare wheel replaced, so three new tyres all in all. Overall the service was very good, friendly staff to deal with and very quick service. They only charged for the two new tyres and replaced my third for no charge. The only reason I didn't give 5 stars was I think it was a bit pricey. From looking online, I could have gotten two Bridgestone Turanza T005 tyres with a fuel efficiency rating of B and wet grip of A for €200. I would recommend but you can probably find somewhere cheaper if you shop around."
Marc Dwyer-Canton
a month ago
"Very professional and skilled. Good value too."
Maris urban
a month ago
"Best place in town to get new car tyres and wheel alignment. very friendly service on the phone and at the office. I've been coming back for past 2 years and always happy with the results. thank you very much Banks Tyres team"
Linus Gaffney
2 months ago
"Great local service. Friendly, helpful and reasonable priced."
Triona L
a month ago
"Friendly efficient service. These guys are always great to deal with. Highly recommended if you need to get your tyres sorted."
---
Services we offer
Adblue
Brakes
Brake Fluid Change
Cabin Pollen Filter
Coolant Liquid
Oil Change
Puncture Repair
Rotating Tyres
Safety Inspection
Tyre Pressure Monitoring Systems
Tyres
Wheel Alignment
Wheel Balancing
---