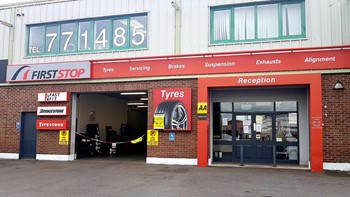 FIRST STOP - Galway
If you need work done on your car, from new tyres to servicing to replacing a bulb, you can rely on Paul and his team at First Stop Galway for excellent customer service and skilled workmanship.
The tyres in our range include premium brands and budget options, with a selection that covers all makes and models of car, van, and 4x4. You'll find us in the Liosban Industrial Estate just off Tuam Road and close to the N6.
For car maintenance services, email or call to get a quote and book an appointment. For tyres, use our online quotation and booking service to choose your tyres and get an appointment at a time that suits you. Get started by filling in your car or tyre size details below.
---
---
Unit 3, Addley Park, Liosban Ind Estate, Tuam Road
Galway
County Galway
H91 A03F
Get directions
---
Get in touch
If you have any questions or would like to get in touch, click on the button below to send us a message and we will get back to you as soon as possible.
Contact Us
---
Read what our customers think
Paul O'Gara
in the last week
"Air conditioning had failed, made an appointment online, Paul and team tested aircon and discovered a leak in the compressor. On follow up visit new compressor fitted and aircon recharged. New tyres also fitted. The work was done at the agreed time and all work was completed perfectly. Paul is professional and pleasant to deal with. The price was reasonable. I am very satisfied with the result."
Leanne O'Shea
in the last week
"Tomás and Paul are both honest and very helpful! I have had several good experiences with this garage and the team. I would highly recommend! Great value and service."
Cormac Dunne
in the last week
"I got some work done on my car recently and as on previous visits I found Paul great to deal with, no issues with price, always a stress-free experience here."
Orla Foley
in the last week
"Had a breakdown away from home. Very obliging and friendly guys to deal with, and the work they did was reasonably priced. Would highly recommend."
Michael Hughes
in the last week
"Top Quality Professionals! Paul and his team gave me good advice, professional & fast service and reasonable prices for both parts and servicing. Combining this with their courteous behaviour really qualifies them as "Top Quality Professionals" i.m.h.o. Michael Hughes"
Sean Fahy
in the last week
"Had a puncture on the motorway early in the morning and arrived at First Stop at nine I clock and was back in the road by nine thirty with two new well priced tyres. Great staff."
Donnacha Bermingham
in the last week
"Got the job done quick and reasonably price, would definitely recommend this place"
Damien Ferris
in the last week
"Contacted Tom via their on line email service at 9am this morning. Problem diagnosed by 12am (rear wheel bearing). Car repaired and on the road 3.30pm today. What more can I say but brilliant service and very good value for money Tom and the lads are a great team. No problem recommending them to anyone Thanks Bye Damien"
Amanda Norris
in the last week
"I got brake lines done on my car in this garage and have to say the service was incredible. Paul and his team got my car sorted extremely quick allowing me to have it ready for my Nct. The service was professional and friendly, they went above and beyond looking over the whole car for me and identifying smaller wears and offering to replace them. I'll definitely be back as they are a helpful and reliable team."
Cian O Connell
in the last week
"Fast Fit Galway is a good garage. I got a full service and I also got a few knocks to my shocks sorted out today. It was indeed a fast fit and the service was excellent. I'll be back her again for my next service. Thanks guys."
---
Services we offer
Adblue
Air Conditioning
Batteries
Brakes
Brake Fluid Change

Bulb Replacement
Cabin Pollen Filter

Car Servicing
Coolant Liquid
Exhausts
Oil Change

Pre NCT Check
Puncture Repair
Rotating Tyres
Safety Inspection
Shock Absorbers

Steering and Suspension
Tyre Pressure Monitoring Systems
Tyres
Tyre Warranty
Vehicle Diagnostics
Vehicle Service
Wheel Alignment
Wheel Balancing

Wiper Blades
---